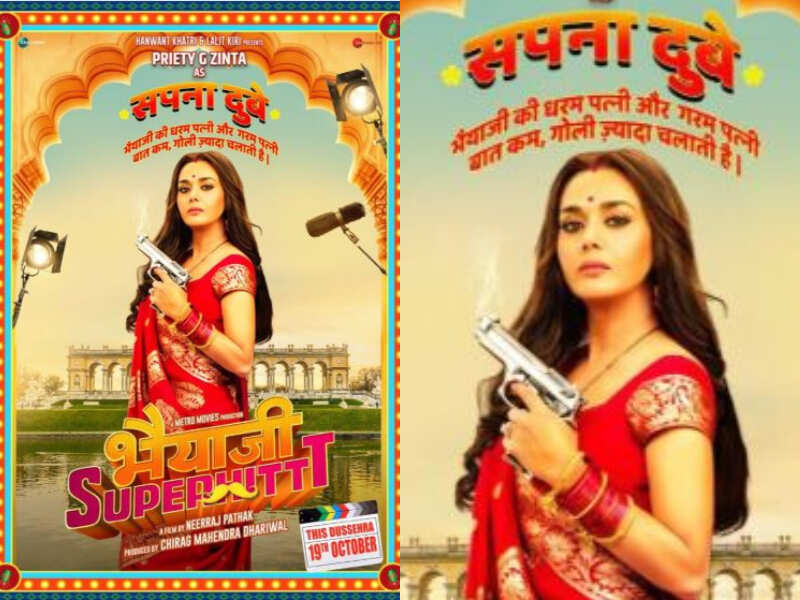 Bollywood actor Sunny Deol, for the first time in his acting career, will play a double role on-screen. In a light-hearted comedy titled 'Bhaiyyaji Superhitt', apart from Sunny, the movie also features Preity Zinta, Ameesha Patel, Arshad Warsi and Shreyas Talpade in pivotal roles.
Earlier, the movie was set to release on September 14. However, there were reports of it getting delayed. However, now, Preity Zinta herself took to her social media account to share a new poster of the film, also announcing the release date. 'Bhaiyyaji Superhitt' is all set to hit the screens on 19th October.
Preity wrote, "Hey folks, guess what? It's #SapnaDubey on the big screen with #BhaiajiSuperhit hitting on the 19th of October in cinemas near you! #PZisBack!"
As per reports, the movie is primarily based on the story of two very different worlds revolving around Deol's characters, convincingly justifying what happens when Bollywood rubs shoulders with UP's underworld. Moreover, the crackling chemistry between Sunny, Arshad and Shreyas with that extra dose of comedy would be really interesting to look forward to.
In an official statement, Sunny said that he was quite excited to play a double role for the first time. He professed that he is looking forward to this film as this is the first time that he will be playing a double role. The subject of the film is also quite novel and something that he has never attempted earlier. Moreover, the film marks Preity's comeback after 5 years on screen with a lead role.